The safety and welfare of the Salcombe RNLI staff, volunteer crews and fundraising crew, along with our ability to maintain our world-class lifesaving service, is our number one priority.
As a result, we have taken the decision to close our gift shop, museum and curtail all fund-raising activities with immediate effect. Our lifeboat station remains operational and we will continue to respond to those in need, but we will not be open to visitors.
'Our lifeboats will continue to launch to those in peril at sea.'
Despite COVID-19 issues our volunteer crews continue to show their dedication. Over the past three days the crew worked to bring a Relief All Weather Lifeboat from Portishead via Newlyn to Salcombe. Then after a quick change over of equipment they were on their way taking Salcombe's "The Baltic Exchange III" All-Weather Lifeboat to the RNLI support centre, Poole, for its twelve-year refit.
Within 24 hours of its arrival in Poole, the All-Weather Lifeboat was being put through its paces on pre-refit sea trials by staff from the All-Weather Lifeboat Centre.
The refit, which will take 3 months will enable "The Baltic Exchange III" to continue in service supporting the coastline in and around the South Hams area for a further 12 years.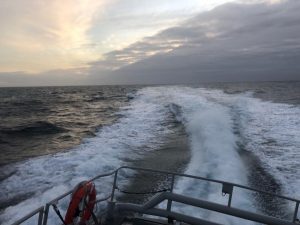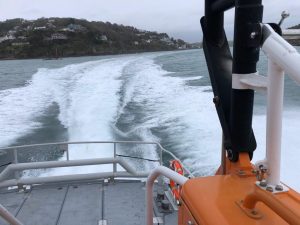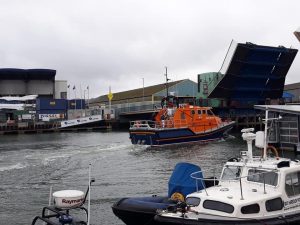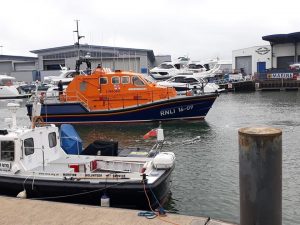 http://217.199.187.64/salcombelifeboat.co.uk/wp-content/uploads/2016/06/salcombelifeboats1.png
0
0
RNLI Admin
http://217.199.187.64/salcombelifeboat.co.uk/wp-content/uploads/2016/06/salcombelifeboats1.png
RNLI Admin
2020-03-20 11:14:38
2020-03-20 11:14:38
COVID-19 Update from RNLI Salcombe
The Royal National Lifeboat Institution (RNLI) has today – Wednesday 6 March 2019 – announced that its new Chief Executive will be Mark Dowie.
Mark is currently the Lifeboat Operations Manager at Salcombe RNLI in Devon, a voluntary role that he has held proudly since 2017, and will take up the post of Chief Executive of the lifesaving charity on Wednesday 15 May 2019.
In his role as a Lifeboat Operations Manager, Mark has been responsible for all the operations of a busy lifeboat station, and so he has first-hand experience of leading and volunteering within the RNLI.
Mark brings with him significant corporate leadership experience, having been a senior banking professional who was most recently Chief Executive Officer, Corporate & Institutional Banking, at Standard Chartered Bank. In this role he led the bank's global wholesale banking business and was responsible for nearly 20,000 people in 62 countries around the world.
A former Royal Navy Supply Officer, Mark served between 1982 and 1990, leaving the service at the rank of Lieutenant. During his time in the Royal Navy, Mark served on the helicopter carrier RFA Reliant and HMS Illustrious.
In addition, Mark has owned and managed a successful marine services company and served as a magistrate in Devon. He is a keen sailor and a gyrocopter pilot.
Mark is also a trustee of the Royal Navy and Royal Marines Charity (RNRMC) and has provided leadership and financial support to youth charities in south London and a school and orphanage in Kenya.
Mark said: 'I am delighted and incredibly proud to have been appointed as the RNLI's new chief executive.
'Having been an RNLI volunteer on the coast for the past two years, I know just what an incredible organisation this charity is. I've seen first-hand the dedication and commitment of the RNLI's volunteers and staff to help save lives and keep people safe.'
Stuart Popham, Chairman of the RNLI, said: 'I'm delighted to announce Mark Dowie as the RNLI's new chief executive.
'Mark has a range of impressive attributes and experience that he will bring to the role, including valuable experience as an RNLI volunteer.
'He has a wealth of corporate leadership experience and a real affinity for the sea. I'm looking forward to working with Mark and am extremely confident that he will be a huge asset to the RNLI.
'I'd also like to profusely thank our current Chief Executive, Paul Boissier, for his magnificent contribution over the last decade. He will leave the RNLI having achieved so much.'
The RNLI's current chief executive, Paul Boissier, has been in post since 2009 and will leave the RNLI on Wednesday 15 May.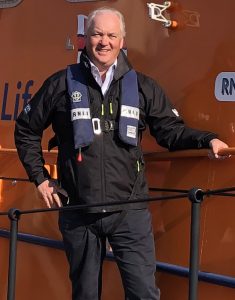 http://217.199.187.64/salcombelifeboat.co.uk/wp-content/uploads/2016/06/salcombelifeboats1.png
0
0
RNLI Admin
http://217.199.187.64/salcombelifeboat.co.uk/wp-content/uploads/2016/06/salcombelifeboats1.png
RNLI Admin
2019-03-06 15:37:44
2019-03-06 15:41:04
From coastal volunteer to Chief Executive: