South Sands Hotel, Salcombe supports Salcombe RNLI

Situated alongside Salcombe's original lifeboat station at South Sands, the South Sands Hotel is proud to continue supporting Salcombe RNLI through a new partnership. Past support has included a very successful charity dinner held in November 2018 in celebration of Salcombe Lifeboat Station's 150th anniversary and they are now launching a longer-term working partnership.
Guests at the hotel, visitors and staff all enjoy a wide range of marine activities which, without the support of the local RNLI team, would not be as safe to undertake. The aim of this new partnership will not only be to raise money for the RNLI but will also raise awareness of key safety issues; for example, the danger of 'cold water shock', that many of us may not be aware of until too late.
More people are taking to the water for their holiday, swapping their usual holiday abroad for a beach, boat, and seaside holiday in our own tropical Salcombe climate. Many are trying activities for the first time, creating a pressing need for safety education and advice, all of which is readily available thanks to the local presence of Salcombe RNLI, and its constant readiness to save lives at sea.
Lifeboat Operations Manager, Andrew Arthur said, "A huge thank you goes to the South Sands Hotel for their support, which will go a very long way in helping everyone to stay safe, spread the word and ensure that we can continue our vital role".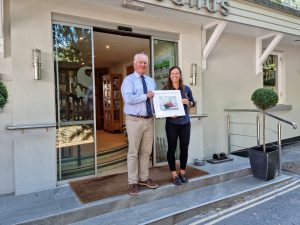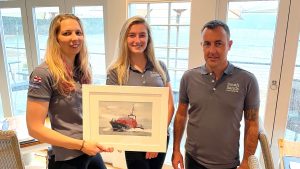 Pictured.
Freya Pearce, General Manager, South Sands Hotel with Mr Mark Dowie, RNLI Chief Executive.
South Sands Employees, wearing RNLI supportive uniforms.
http:///salcombelifeboat.co.uk/wp-content/uploads/2016/06/salcombelifeboats1.png
0
0
RNLI Admin
http:///salcombelifeboat.co.uk/wp-content/uploads/2016/06/salcombelifeboats1.png
RNLI Admin
2021-10-03 09:20:50
2022-07-19 12:07:11
South Sands Hotel, Salcombe supports Salcombe RNLI