Although the weather had turned a little cooler the anticipation of Mary Berry joining the Salcombe RNLI Lifeboat Fundraising Crew certainly drew a big crowd to the Woodcot House & Gardens, in Salcombe this Saturday.
After a brief welcome and introduction by Mr. Andrew Arthur, Lifeboat Operations Manager, Mary opened the event at 11:00 am, after which the many visitors were able to relax in the stunning gardens of Woodcot House, enjoy al-fresco cream tea and enjoy the music of the Salcombe Jazz Trio. There were also several events laid on for the younger visitors, organised again by the Fundraising Crew.
Mary returned at 2:30 pm to give an interesting recollection of the many wonderful times she and her family had spent in Salcombe over the years, before taking a wide range of questions from the audience.
Before leaving Salcombe Mary made a point of visiting the Salcombe RNLI Crew room where she was introduced to Coxswain Chris Winzar before being given a tour of both the in-shore and all-weather lifeboats.
When asked for his thoughts on the day Simon Linsley, Chair of the Fundraising Crew said "What a great day made possible by the appearance of Mary Berry and the many fundraisers who worked so hard throughout the day. Simon also wanted to thank the many business in the area for their support, The Bakehouse, Salcombe Dairy, Salcombe Coffee Shop, Salcombe Deli, Luscombe Drinks, Salcombe Co-op, Marchant Petit, Tesco Kingsbridge & Salcombe Trading".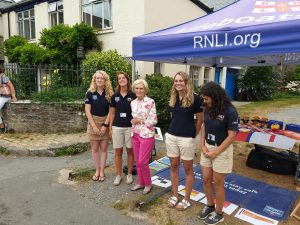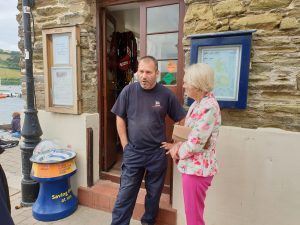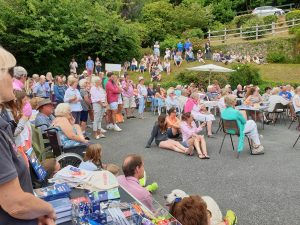 http://217.199.187.64/salcombelifeboat.co.uk/wp-content/uploads/2016/06/salcombelifeboats1.png
0
0
RNLI Admin
http://217.199.187.64/salcombelifeboat.co.uk/wp-content/uploads/2016/06/salcombelifeboats1.png
RNLI Admin
2019-07-14 08:48:03
2019-07-20 21:47:33
Mary Berry, Cream Teas and RNLI Salcombe